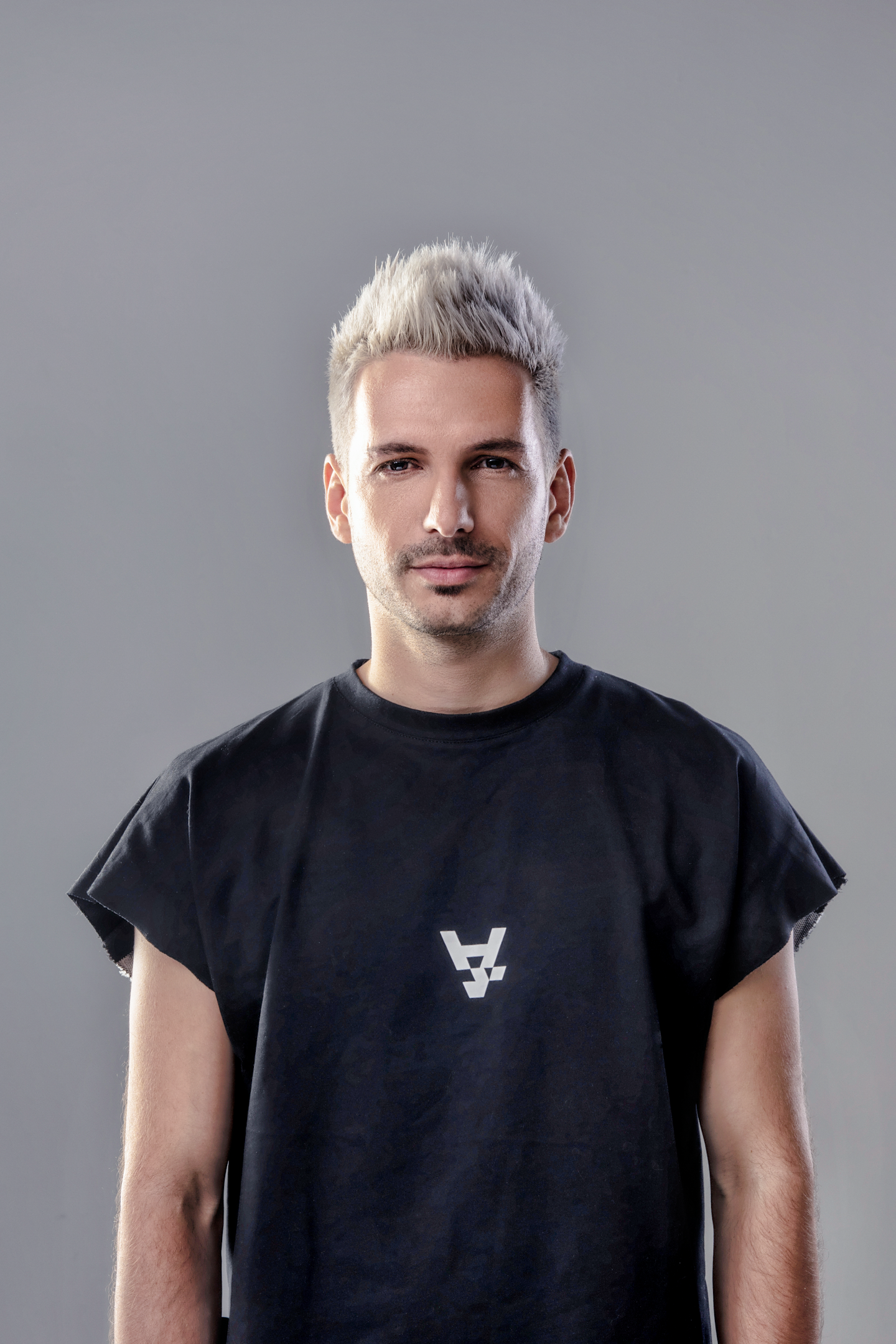 Code Black
Code Black – Full story
Supernatural atmospheres, spine-shivering melodies and intricate storylines translated into sound are just a few things that iconic producer Code Black brings to the world of Hardstyle. Not only renowned as one of the most devoted and ambitious figures when it comes to production, but this iconic Australian also showcases himself as a highly successful DJ with an all-round look and feel of a true entertainer.
Sydney born Corey Alexander Soljan, or better known on stage as Code Black lived through his childhood years with an undying passion for music; however it wasn't until he was thirteen years old when this passion took over, resulting in him intensely focussing on crafting his own productions throughout various different musical styles. Transforming this passion into a reality, Corey spent countless days and nights perfecting his technique and finding direction in his sound until he was ready to launch himself into the public eye. Teaming up with counterpart member Sam Gonzalez (known today as Audiofreq), the legendary duo Bioweapon began a rewarding musical journey in 2008.
Shortly after the conception of the act, Bioweapon were recognised as a force to be reckoned with not only within Australia, where they performed regularly, but also in The Netherlands where they signed with the leading Hardstyle label Scantraxx Recordz. Unforgettable hits such as "Move your Body", "Bass Power," "Turn It Up" and their remix of "Toca's Miracle" by Fragma & Coco Star are perfect examples of Bioweapon's timeless approach to music; these evergreen tracks grabbed the hearts of fans worldwide and subsequently cemented this dynamic duo solidly in the Hardstyle scene.
Already boasting a collection of unprecedented music and after doing a successful summer tour in 2010 across The Netherlands and Belgium where they played at many large-scale festivals, Bioweapon came to the decision that it was time to take the next step in their careers. In February 2011, Corey and Sam relocated to the central hub of Hard Dance Music – The Netherlands. Shortly after moving, the pair came to the unfortunate decision to discontinue Bioweapon, however this cloud came with a silver lining for Corey who soon launched his solo act Code Black at the end of 2011. Little did he realise that an efficacious and prosperous journey lay ahead of him...
The huge success of Bioweapon and the public's rising curiosity surrounding his new act allowed Corey to kick-start his solo career immediately. Soon signing to another forerunning record label, Fusion Records, Code Black struck gold in November 2011 with his subsequent release "Red Planet;" a critically acclaimed masterpiece that quickly became one of the most treasured anthems in hardstyle's history. The impact that this track had on the Hardstyle scene and also Corey's career was extraordinary and no matter where it was played, dedicated fans from around the globe would sing along to the melody in unison. Corey's solo journey was already looking bright as a packed out performance schedule followed, which saw this piloting artist playing on colossal stages at Reverze, Bassleader, Defqon.1 (The Netherlands and Australia), Q-BASE, Tomorrowland and WiSH Outdoor, where he had the honour to produce the anthem "Time Of Your Life" alongside artist, Slim Shore.

Spreading his sound not only throughout The Netherlands, but in countries such as Germany, Sweden, France, Belgium and more, Code Black was proving to be an international success both on-stage and in the studio.
2012 marked another incredible year for this Australian prodigy who released a collection of top-notch tunes including his two collaborations "Activated" and "Your Moment," with Swedish duo Wasted Penguinz. These two heart-warming tracks showcased Corey's potential in the studio as he mastered the art of creating hard-hitting, yet melodic and melancholic atmospheres that translated real-life emotion into sound. If these collaborations weren't enough, the summer of 2012 brought one of his biggest successes – the release of "Can't Hold Me Back" with Nitrouz which reached the #1 spot on Hardstyle.com, this powerful and melodic-oriented hit also gained immense support from pioneering names including Headhunterz (placed #11 world in DJ Mag Top 100 2012), who referred to "Can't Hold Me Back" as his favourite track of 2012 and a masterpiece that will forever be a summer-anthem of 2012'
Proving to be one of the most anticipated producers, Code Black continued to keep the standard high with his incredible bootleg for Tiësto's "Lethal Industry" and "About The Music" together with Toneshifterz. After just one year of establishing his solo act, Code Black was evidently one of the most anticipated names in Hardstyle which was solely a reflection of his incredible capabilities in the studio. Succeeding in combining supernatural, epic melodies with raw and edgy undertones, Code Black holds the ability to turn anything he touches into musical gold.
After a prosperous 2012, 2013 proved to hold some of Corey's biggest successes, including the release of "Brighter Day;" another melodic masterpiece that took such a different approach to melodic hardstyle that it changed the face of the genre from that moment on. Not only did it touch the hearts of the Hardstyle community, but it was also picked up commercially by Dutch day time radio station SLAM-FM who featured it in their TOP40 playlist. The track successively reached a peak of number 8 in the national TOP40 chart after featured on the station for eight weeks. After being a part of Fusion Records for two years (September 2011), in 2013 Code Black shifted to release his music on the label 'WE R' and was quickly recognised as one of the front-men of the label. Proving himself as a well-loved artist among The Netherlands, Code Black's popularity back home in Australia was also highlighted when he was voted in at #15 for the 'In The Mix Top 50 people's choice awards 2013,' a national poll run to collate the best Australian artists.
Strongly continuing his legacy, milestone performances followed at Intents Festival, IQON, Defqon.1, Tomorrowland, Decibel Outdoor Festival, Mysteryland, Monday Bar Summer Cruise, Hard Bass and many more. However, the biggest milestone of them all was experienced in November 2013, when Code Black had the honour to perform in front of 30,000 dedicated fans in the GelreDome at Qlimax, the most prestigious indoor Hard Dance event. As well as being a part of this huge night, Corey was also asked to represent the event by creating and mixing the compilation CD. Code Black's performance at Qlimax marked one of the most incredible experiences for him and was a metaphorical signpost that he was among the best of the best in the Hard Dance industry.

Gaining a devoted worldwide fan-base, creating his own unique signature sound and holding one of the most exceptional discographies, Code Black established himself not only as a highly regarded name among colleagues, but also an artist who served as an inspiration to upcoming talent. In 2014, his eminence was spread on a commercial level when he entered the prestigious DJ Mag Top 100 DJ's list at #92. This not only solidified Code Black further in Hardstyle, but this spot also allowed him to make a mark internationally as one of the 10 Hard Dance acts voted into the list among other world-class names like Avicii, Armin Van Buuren David Guetta, Hardwell and many more. Other placements from 2014 include his #38 spot in the 'In The Mix Top 50 people's choice awards 2014' in Australia.

Release-wise, 2014 was far from dull as Code Black released two collaborations with budding producer Atmozfears, "Starting Over" and "Accelerate," the XXlerator Outdoor anthem (13th May, 2014) an incredibly innovative track that held the #1 spot on Hardstyle.com for a matter of weeks. Another unforgettable release was "Pandora," (#1 on Hardstyle.com) an atmospheric masterpiece which served as a follow up to "Red Planet." This hard-hitting track transcended beyond the typical boundaries of Hardstyle and threw the scene into a curveball with its surreal and mystical sounds. Another highpoint in Corey's year was marked when he was requested to produce "Unleash The Beast," the anthem for Defqon.1 Australia. This faultless anthem as well as his performance which closed the gigantic mainstage highlighted just how far this young Australian has come, also proving his vital role within the Hardstyle scene.
In 2015, Code Black has kept his legacy alive with milestone performances at Defqon.1, Electric Love Festival, Dance Valley, Euphoria, Ground Zero, Mayday and Hard Bass, where he performed in the GelreDome alongside Toneshifterz, Audiotricz and Bass Modulators. As well as boasting a schedule that's packed to the brim, Corey spends every spare hour locked behind studio doors, crafting new and innovative music to inspire the Hardstyle scene. His most recent releases including "New World" featuring Chris Madin, "Draw Me Closer," "End Like This" with Wasted Penguinz featuring Insali and "Triangle" have had a huge impact on the scene, underlining his incredible impact on the melodic spectrum of Hardstyle. Always evolving himself as a producer and DJ, Code Black proves that no great musician goes unseen when he took the #26 spot in the 'In The Mix Top 50 people's choice awards 2015,' proving that he was still a renowned artist among Australian dance music.
In 2016 Code Black started giving back to the hardstyle community by running video tutorials for young producers from all over the world which has already proved to be a huge success throughout the broad hard dance scene. 2016 was also the year that EDM heavyweight Carnage picked up multiple Code Black tracks and began playing them at every show he played around the globe for the next few years.
2017 bought Code Black with a jam packed touring schedule that has expanded into new territories worldwide. He is spreading his signature sound to new markets such as Japan, Taiwan, Thailand and Malaysia, playing sold out shows to some of the most dedicated fans. As well as playing shows all over Europe, Asia, Australia, South and North America.
In 2018 Code Black released his first studio album "Journey". This album embodies a truly unique combination of styles, something which Code Black has shown throughout his career. Always striving for a new fresh sound to excite his listeners, this album delivers that and more.

Journey includes 18 tracks, that tells the story of who Code Black is, and where he is headed in the future. The album also features collaborations with Darren Styles, Da Tweekaz, Wasted Penguinz and Toneshifterz to name a few.

He has pulled out all the stops to show just why he continues to stay a leading name in the hardstyle realm, not only on stage but in the studio as well. His technical ability and music production skills are second to none. Leaving him well respected amongst his colleagues in the hardstyle community and the wider music scenes.
Over the past three years, EDM giants such as Timmy Trumpet, W&W, Carnage and Will Sparks have been supporting Code Black's music on festival mainstages all over the world. This has opened the doors further for musical collaborations between himself and these headlining names.

All pieces of the puzzle fit together for this audacious Aussie who will endure his quest to innovate and inspire through the realms of sound. Working diligently to become one of the leading names in Hardstyle, Code Black isn't just a DJ and producer, but a creative and innovative musician who promises a prosperous and serious career in music.