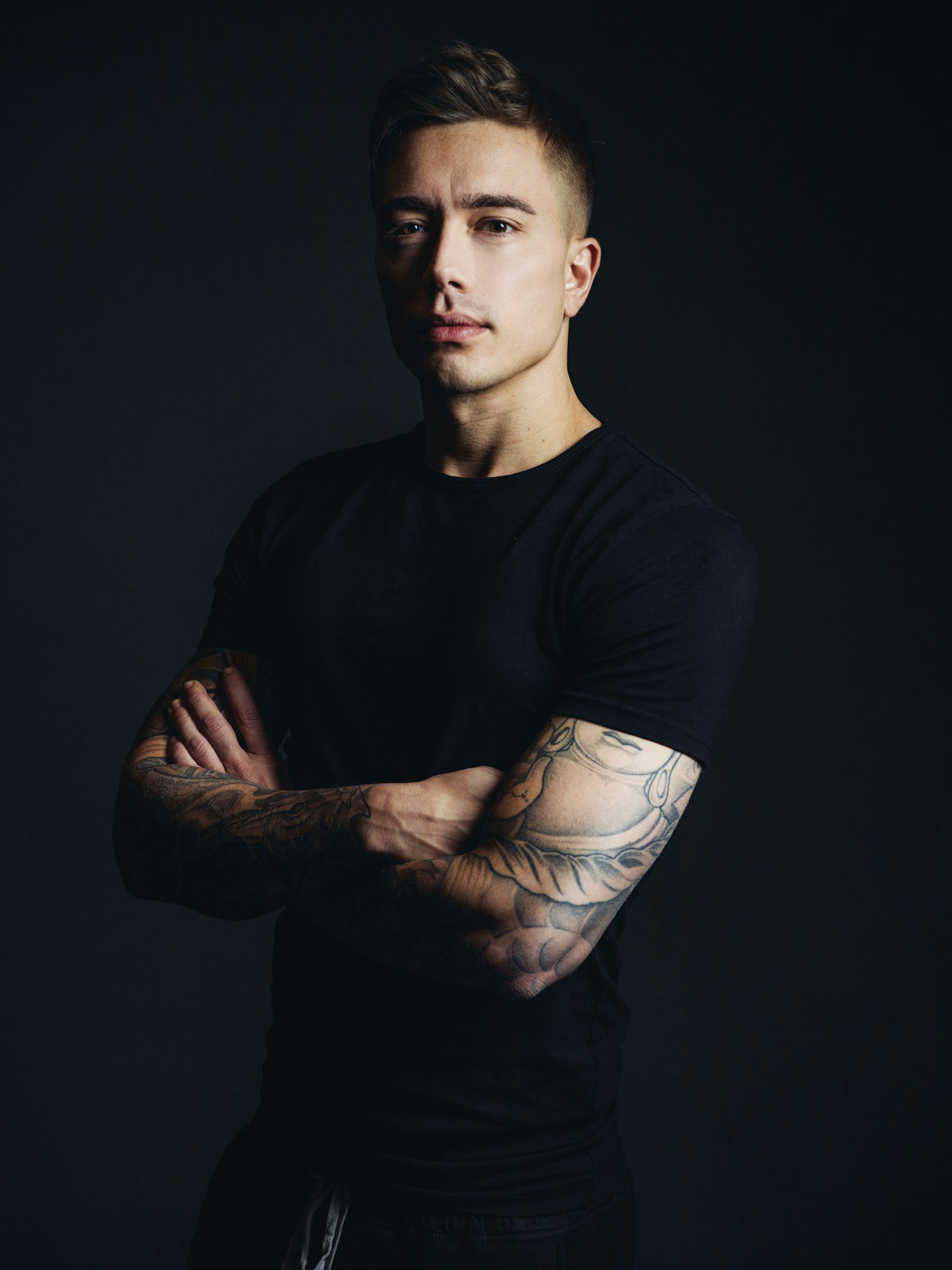 Headhunterz
Biography Headhunterz 
Headhunterz' many years of dedication has without a doubt made a huge impact on the hardstyle scene. From the moment his first record came out, his unique melodic and energetic take on the genre stood out. Going strong for 15+ years, he kick-started a new movement within the international music scene, flying the flag of hardstyle music. Headhunterz' rise is unparalleled, driven by a strong sense of belonging to the hardstyle scene. To this day, he continues to take hardstyle to new heights.

IN THE BEGINNING
"My first Qlimax. I was sold. I stood front-row the entire night, in complete awe. From that moment on, I chose hardstyle."
Willem Rebergen, better known as Headhunterz, kicked off his DJ career in 2003. That year, a friend gave him a ticket to Qlimax, and it was love at first sight. Discovering hardstyle music and its dedicated scene changed his life. From that moment on, he committed himself to becoming the best producer in the hardstyle genre. He locked himself up in his tiny bedroom studio, in the attic of his parents' house in Veenendaal, and quickly learned the ropes of producing. Unaware of the revolution he would start, the foundations of the Headhunterz sound were made.

EARLY HARDSTYLE
"My first release gave me so much motivation – there was no stopping it. I went all-in. A dream came true, because I followed my intuition."
After 3 years of perfecting his sound, he signed his very first record deal, with 'Aiming For Ur Brain' landing on Scantraxx Special - followed by 'The Sacrifice' EP. Both releases unlocked a firestorm within the scene, as their melodic approach to hardstyle instantly made them stand out. Many more future classics would follow, with tracks like 'Dragonborn', 'Victim of My Rage' and 'Rock Civilization' earning the hearts of the hardstyle community. In 2007, 'The Power of the Mind' became the official anthem of Qlimax 2007 – only 4 years after Heady's first visit to the very same event. In 2009, 'Scrap Attack' was the anthem to DEFQON.1, the biggest hardstyle event in the world. Collaborations with The Prophet, Noisecontrollers and Wildstylez, along with his originals and headliner performances at countless festivals and events around the globe, made Headhunterz grow from a rising talent into an established name.

PROJECT ONE
"Wildstylez and I have been best friends since the beginning of our careers, and our lives have been intertwined ever since. If it were up to just me, we'd be working together until the very end."

In 2008, Headhunterz joined forces with lifelong friend & colleague Wildstylez, to create the hardstyle act Project One. Their album redefined the Hardstyle sound of the late 2000's, standing out from anything the scene had heard before. 'Life Beyond Earth', 'The Art of Creation', 'The Story Unfolds' and many other Project One tracks have grown from current favorites to eternal classics, and their primetime sets rocked one major hardstyle event after the next – crossing borders of their home country and landing tours across Europe and the US. In 2010, both Headhunterz and Wildstylez decided to focus on their solo careers – but the project made its comeback in 2016, with Project One's EP1, followed by 'Journey of The Mind' and 'Resurrection'. The promise of a new Project One album remains, eagerly anticipated by fans. 

HARD with STYLE
"I'm very thankful that I got this opportunity all those years ago and more than happy to do the same for young talents."
In 2011, Headhunterz kicked off the official, monthly HARD with STYLE podcast, bringing hardstyle lovers the music from within. In no time, it grew out to become the #1 hardstyle radio show. Two years into it, Heady expanded the HARD with STYLE brand by launching his very own record label in 2013. In between a killing tour and studio schedule, being DJ Mag's highest ranked Hardstyle DJ in history, Heady took on the role as label owner and A&R, by setting up HARD with STYLE. Through the label, Headhunterz encouraged young, new talents and offered them a platform to shine. The podcast perfectly aligned with that, as did the official HARD with STYLE events – with sold out editions in Amsterdam, Los Angeles, Hamburg and Berlin. The first edition kicked off with 12.000 fans in Amsterdam's Ziggo Dome, the event that sold out in less than a day. Many more events around the world would follow. In 2014, Heady brought home 8 years' worth of Headhunterz classics, presented on the HARD with STYLE sublabel of Origins. Including more than 60 originals and collaborations, the Origins project was Headhunterz's ode to the past, and a way of acknowledging the growth he's been through.  

THE QUEST
"In music, I want to feel free. I've accomplished a lot in the style I'm doing, but I want to keep challenging the inner me. So I went out to look for new challenges." 
Headhunterz' new take on Hardstyle music made the genre grow into an international phenomenon. It was no longer just the sound of European raves, but became something worldly. Headhunterz made new audiences fall in love with the unstoppable energy of Hardstyle music. 7 years after visiting his very first hardstyle party he was on top of his career, with each new track captivating both his fanbase and artists outside the scene. 'Colors' ft. Tatu, the first hardstyle track ever released on Ultra Records, became a golden record. Major EDM names like Hardwell and Kaskade requested Headhunterz' remix skills, and a collaboration with Krewella soon followed.
As often happens to creative people, a different challenge started itching Headhunterz' mind. In 2014, he made a drastic change to branch away from Hardstyle and have a taste of whatever else was out there. He did main stage performances at EDM festivals and collaborated with artists like W&W, Steve Aoki and R3hab. His break from Hardstyle allowed him to think outside the box, and helped grow his musical perspective. It made him explore the boundaries of his own, musical imagination and discover new territories within the electronic dance scene.
While branching away from Hardstyle, he kicked off the 'Vlogs From Within' series – which he recorded and edited all by himself, while touring. It offered fans a rare, honest insight into the ups and downs of being a successful DJ, with Headhunterz not shying away from sharing his true feelings on the loneliness of hotel rooms, constantly battling jetlag and travelling from one gig to the next at a killing pace. But also, the adrenaline rush of performing, important friendships and loyalty.

THE RETURN
"I knew there was a world out there that would welcome me back with open arms, somewhere I'd feel at home. At some point, I thought: what the hell am I running away from?"
Playing the Defqon.1 2016 Legends show, after being away for 2 full years, made Headhunterz realize how much he missed his beloved hardstyle scene. After a special Project One performance at Qlimax later that year, rumors started to spread about Headhunterz' potential return to Hardstyle. And so he did. At DEFQON.1 2017, in front of 60,000 ecstatic fans, Headhunterz announced his grand return to hardstyle. Following the announcement of the 'Return of Headhunterz' show, he sold out the Ziggo Dome within 30 minutes – for the second time in his career. The hardstyle community welcomed him back wholeheartedly, as his world tour took Heady to no less than 125 performances across 34 countries.

His journey inspired him to create 'The Return of Headhunterz', an album that tied past, present and future together – clocking up more than 55 million streams, and growing. One of its tracks, 'Destiny', made it as the number 1 track in the Hardstyle Top 100 of 2017 and became a golden record in 2019. 'Our Church', a collaborative production with Sub Zero Project, was also featured on the album and became an important track to the hardstyle community. It planted the seeds to the Orange Heart movement, with its lyrics defining the meaning behind it: "To every owner of an orange heart, know that nothing shall tear it apart. When the world will try to divide us, then this music will reunite us." 

Connected to the album was Headhunterz' Up Close and Personal night – combining spectacular visuals, live music and an intimate setting to tell the story behind it all. Selling out Amsterdam's Paradiso and Tilburg's 013, both fans and Heady enjoyed a night to remember. 'The Return of Headhunterz', as well as the personal shows that followed its release, showed that Headhunterz will always find a warm welcome at his home base, no matter what. 

ART OF CREATION
"The goal is to get Hardstyle to level up, make it a worldwide brand. Through Art of Creation, we can be part of the first steps towards the Hardstyle sound of tomorrow."
The next chapter in Headhunterz' musical life was the launch of a new label and platform – Art of Creation, together with Wildstylez. A place where the hardstyle community finds high quality music, it is home to a select group of talented minds, creative producers and first class music makers. Next to highlight releases like Headhunterz' 'Oxygen', 'Leap of Faith', 'Home' and Wildstylez' 'Children of Drums' from the label bosses themselves, the gifted duo of Sound Rush became the first signed artists part of the Art of Creation family. In 2019, Art of Creation and the Spirit of Hardstyle label joined forces, as Noisecontrollers, Bass Modulators and Audiotricz fused their minds with Headhunterz, Wildstylez and Sound Rush. A strong team that holds hardstyle close to their hearts, making Art of Creation a home to some of the most powerful music of today and tomorrow, connected to all those who are dedicated to it. "The future ahead lives in our imagination. Until it is shaped by the Art of Creation."

DRAGONBORN
"The closest piece of music to my heart I have ever made."
What once started as an obsession for the game of Skyrim and its Dragonborn theme, has grown into an impressive trilogy in Headhunterz' discography. A saga of music, which has been told throughout the course of 8 years. In 2012, Headhunterz first brought 'Dragonborn' to the hardstyle crowd, which would eventually turn into one of his biggest hits. The mythical dragon became a leading figure, a symbol in lots of Heady's work, shows and music. In 2019, he brought a new Dragonborn anthem to life; 'Dragonborn Part 2' ft. Malukah, a free release. That same year, Headhunterz' Dragonborn story continued through the world premiere of Dragonborn part 3, 'Oceans Apart' ft. Sian Evans, at Qlimax 2019. Released in 2020, it was chosen as number one track in the Hardstyle Top 100. An ode to his ex-girlfriend Luna, 'Dragonborn 3 ' was written at a very difficult time in his life, his feelings translated into words and notes. Each individual track of the Dragonborn saga has its own part in the Headhunterz tale – they are a sign of his growth, with the music from within ever still guiding him. Music forged from a fiercely beating orange heart – which always has that dragon roar inside.  

ORANGE HEART
"When we speak of Orange Heart, it means having a heart for this music. It is something that bonds us and gets us together as one big family, and that is exactly how we feel."
The dragon is a central theme in Headhunterz' Orange Heart concept - a unique concept in which every DJ represents their own spirit animal and theme, connected through music. It's a world within a world, of which all hardstyle fans are part of. It stands for the intertwining and undying love for hard dance music, with a dedicated, worldwide community behind it and Heady as the tribe leader. Headhunterz has spread the orange heart sound across the globe at festivals and club events, but also through his very own Orange Heart event. Together, both the DJs and the crowd share a ritual, an experience. In December 2019, the kick-off of the show concept took place at Paradisco, Amsterdam, with a sold-out, three hour show. 

LOCKDOWN
"I made it through what I look back on as one of the hardest periods of my life. Now I look back on it and I see the silver lining. What a meaningful period full of lessons and blessings."
At Qlimax 2019, in front of 30.000 people, Headhunterz was at the brink of breaking down. Suffering a heavy burn-out, he cancelled nearly all of his international shows in December 2019, but did perform the kick-off of the Orange Heart event, at Paradiso. Headhunterz needed time off, by limiting the stress that's an inevitable part of his professional life. Time to rest, recharge and focus on his health. The Covid-19 pandemic that hit only a few months later gave him the chance to focus on personal growth and development, as he finally had time to master the art of playing piano, work out and reflect upon the rollercoaster ride his career has brought him. He learned to take better care of himself, and found happiness again. Headhunterz: "I have a new definition for quality of life these days. Sober, fit, solo, at peace with myself and everything that's going on around me, inspired to create music."
During the corona crisis, Headhunterz has done several live sessions on Twitch and Discord, along with a livestream set for Defqon.1. While perfecting his studio work, he also focused on setting up 'The Art of Production'. A platform that'll launch in 2021, on which he will be teaching masterclasses to ambitious producers, providing special courses and live feedback sessions from his studio. The same place where Headhunterz music comes to life and plans to conquer new territory for Hardstyle are forged. It's here, where the one thing reigns that will always remain Headhunterz' greatest achievement; the music from within.