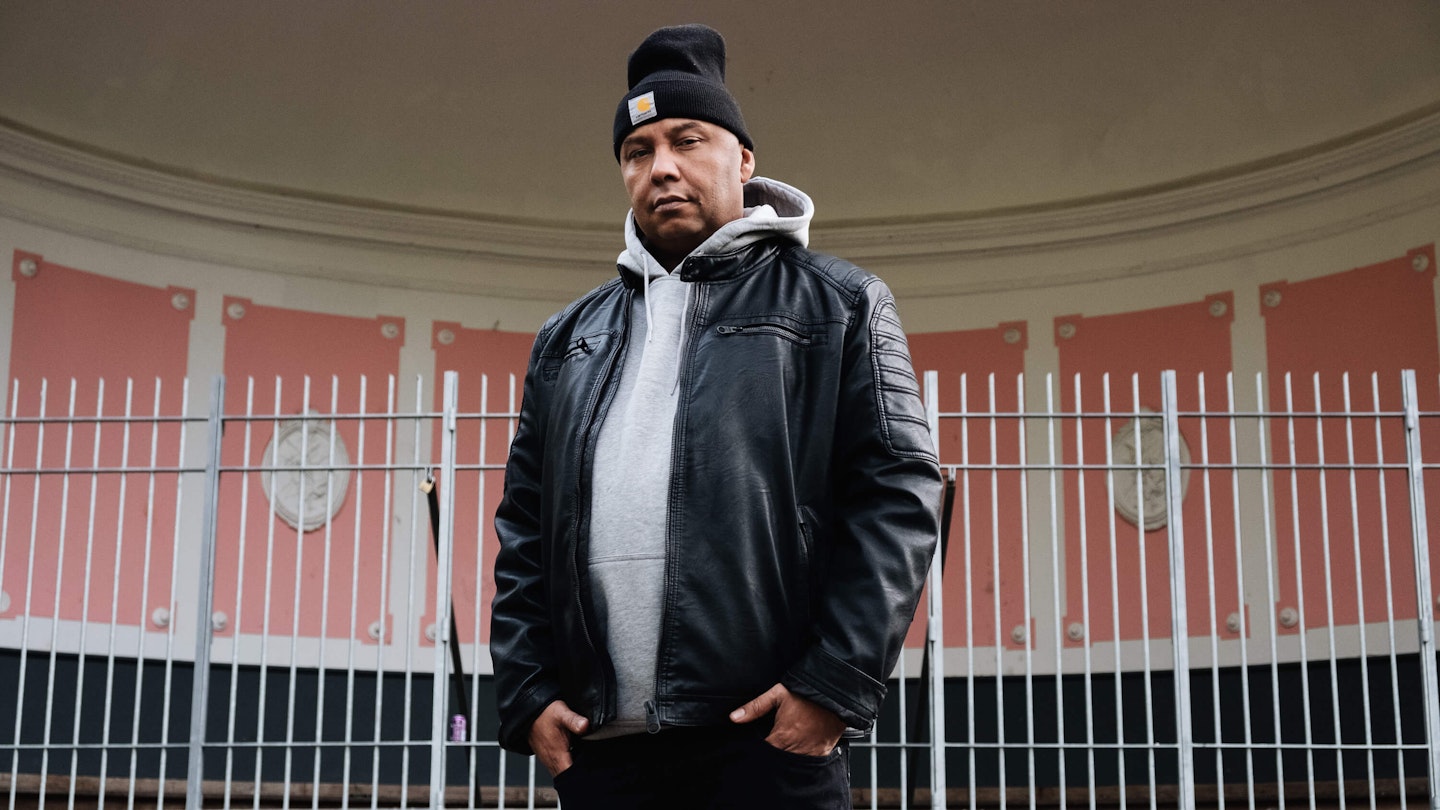 Da Mouth of Madness
With a career as long and eclectic as hardcore itself, Sietse van Daalen AKA Da Mouth of Madness is The Voice of Hardcore. As one of the first MCs from the early days of hardcore, van Daalen is an iconic figurehead and spokesperson for the scene. His passion for hardcore transcends sub-genres––"It's all hardcore," he says––which has led him to working with a huge range of artists, from his first hits with Waxweazle––"Hardcore Power" in 1997 and "All We Want Is Hardcore" in 1998––to more recently hosting Dr Peacock's sensational Peacock in Concert shows, a collision of Frenchcore and classical music that closed down the mainstage of Defqon.1 in 2018. In 2016 he was one of the few hardcore MC's to release his own album. Old Dog New Trixx featured a wide range of co-producers, including Sei2ure, F. Noize, Partyraiser and Dr Peacock, and presented a multifaceted hardcore sound.

On stage, DJ Uzi is van Daalen's best-known collaborator. Uzi and Da Mouth of Madness were the original "dynamic duo," running in the hip hop crew II Damn Dope together in the late '80s before discovering hardcore––or rave––at the dawn of the '90s. They unofficially started performing as a duo in 1994, with van Daalen storming the mic during Uzi's DJ sets. They were discovered by Sander Groet (from ID&T) during one of their impromptu performances at 7 Gates to Hell. They officialise their partnership the following year, playing their first Thunderdome gig together in 1995 as part of the Thunderdome XI On Tour. They would breakout in 1996 and become one of ID&T's flagship hardcore acts, a partnership that endured until the hardcore bubble burst in 2000.

When the hardcore scene changed in the millennium, van Daalen changed along with it. Between 2003 and 2005 he hosted Thunderdome Radio with DJ Promo, Catscan and DJ X-Ess when it was a weekly show on ID&T Radio, the first dance music FM station in Holland. After the station was taken over by SLAM!FM, Thunderdome Radio was revived by Andre van Zuijlen (MC Justice) as an online radio show. Van Daalen served as co-host from 2006 until its final transmission in December 2013. Thunderdome Radio was streamed live every Wednesday night, from 8 PM until midnight, from Studio 80 to over 30,000 listeners worldwide. It became renowned as much for breaking new talents as for its pranks.

After a period of promoting small events and running his own "hardcore pub," Cafe Oldstyle in Leeuwarden, van Daalen returned to MCing with force in 2003 after a standout appearance at Masters of Hardcore vs Hellraiser––and he hasn't stopped since. Whether making mainstage appearances at massive gatherings like Defqon.1 and Tomorrowland, or Thunderdome's record-breaking 25 Years of Hardcore event in 2017, to performing at more underground hardcore events like Footworxx in Belgium, van Daalen's approach is the same. As a seasoned veteran he understands the importance of reading a crowd, and interaction is key. His witty one-liners have become anthems, like his "raise your fist for Angerfist," which was sampled on Angerfist's emblematic 2004 track of the same name.

Assuming the mantel of The Voice of Hardcore goes deeper than MCing. In latter years van Daalen has been a mentor for the younger generation, advising rising talents from his decades worth of experience. He is a genuine ambassador for hardcore culture. Between 1997 and 1998 he served as anchorman for TMF Hakkeehhh, the weekly hardcore TV show from Dutch 24-hour music channel TMF. Unlike the show's other host, the parody act Gabber Piet, van Daalen––later with Drokz by his side––brought "the true hardcore" to TMF, showcasing the devotion of the fans and the artists––himself included––that kept the scene burning throughout commercialisation and collapse. Many years later, van Daalen is as zealous as ever: "I just love it, there's no other explanation," he says.

In 2020 Da Mouth of Madness celebrates his 25th jubilee in the hard music scene, building upon an inimitable career hosting stages at some of the biggest hard dance events in the Netherlands, and performing alongside his good friend Dr. Peacock throughout Europe. Grounded, dedicated, a real entertainer: there is only one Da Mouth of Madness, The incomparable Voice of Hardcore.